Traditional way to demonstrate value of technology to customers is through different types of marketing materials (brochures, papers etc.). However, typically limited in size marketing materials fail to fully present value or technology in a methodologically sound and compelling way.
There are number of value demonstration formats which are used by industry:
Core value dossier

Comprehensive overview of the value proposition for medical technology
Used to form reimbursement/HTA submission documents (externally), communicate about technology to external stakeholders and train personnel on the value of the technology internally
Usually includes of 60-150 pages

"Light" value dossier

Simplified / short version of core value dossier
Usually includes 15-30 pages

Value summary

MS PowerPoint analogue of "light" value dossier
Usually includes 15-20 slides

Business case

Document, developed for specific stakeholder or type of stakeholders, aimed on demonstrating impact of introduction of a technology on organization
It is much more pragmatic and practical document, compared with value dossier
Value dossier typically covers number of topics:
Epidemiology and burden of disease
Current standard of care and its limitations
Overview of technology in scope
Systematic literature review for technology
Health economic analysis for technology
Recommendations in clinical guidelines and health technology assessments
Ethical considerations
Integration of novel technology into existing patient's pathway
Current reimbursement for technology
Typically, industry would consider development of value documentation as a process, starting from compiling of "light" dossier, expanding to core value dossier, when more evidence is available and while facing reimbursement/HTA submission, adapting of dossier to different geographies and updating it, when new evidence is available.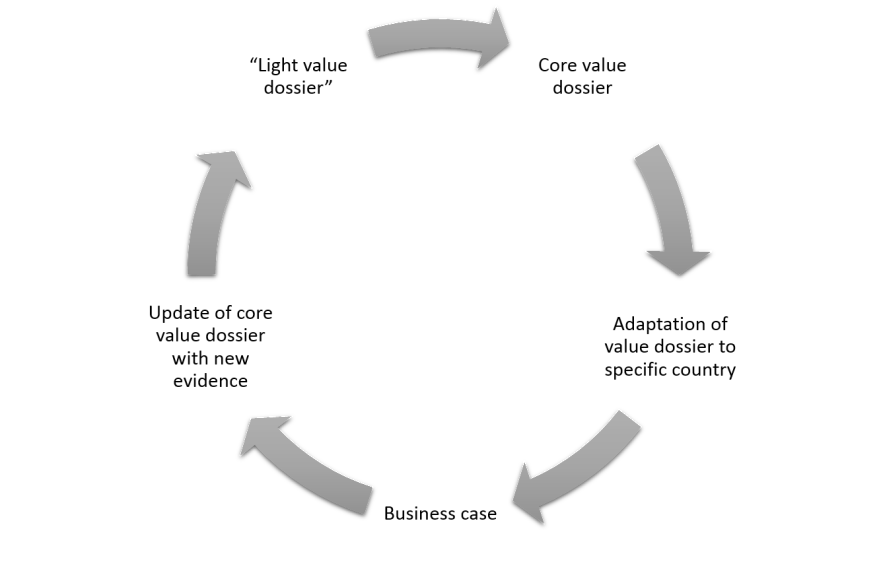 Synergus can provide support with development of any format of value documentation.